A month ago we released a report on public trust and confidence in charities which showed a significant fall in trust.
Since then we have convened a meeting of senior leaders in charities to talk about joint work in the sector and spoken with a number of other charities about how to address this very serious issue.
What's encouraging is that most charities we talk to take this issue seriously. They realise that this is a decline that needs to be reversed and, ultimately, may have a serious impact on giving and volunteering levels.
The research highlighted a number of issues as to why trust has declined. However it also told us what gives people trust. One key aspect raised in this respect was management, or governance, in charities.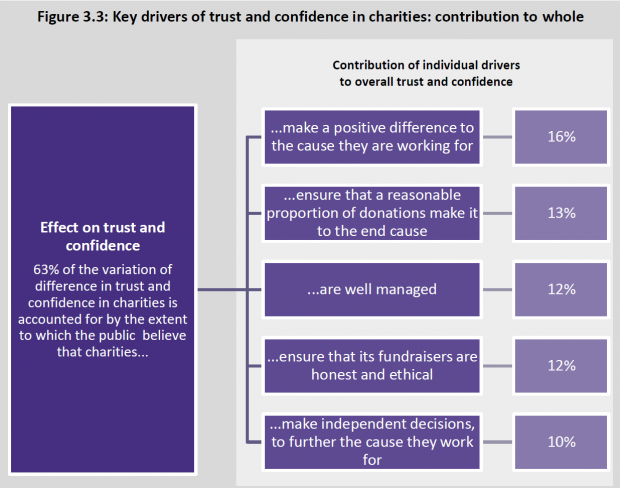 What's the problem with charity management?
We know from our case reports and statutory inquiries that there are certain things we see time and time again, - from trustees not knowing their duties, to not challenging dominant individuals, to not understanding conflicts of interest, to poor decision making. Even more simply, some do not even realise there's a duty to file an annual report and accounts each year. A lot of the time we see basic mistakes. And these dent people's confidence.
So what can we do to improve management and governance in charities?
We have been working to revise our guidance and make it easier for everyone to read and access, from The Essential Trustee last year to key pieces of guidance this year on fundraising and financial resilience. We have been writing in a simpler, more direct style to try to make it easier to understand. And we are keen to make sure that we are in direct contact with trustees, so that trustees get our updated guidance as it comes out. While we continue to offer speakers and training wherever possible, we will be looking into video over the next year to get a better reach for our guidance.
We are improving our induction materials. And we want to use Trustees' Week in November to promote effective recruitment of new trustees, raising standards by bringing in people with new or different skills rather than recruiting among your own network of contacts, and who can be brave and challenging.
While we work on this, we are also supporting other initiatives in the sector. For example, there is a major piece of research looking to baseline what trustees know and what skills they have, by Cass Business School Centre for Charity Effectiveness and Cranfield Trust, which we are involved in. The sector is working to review the Governance Code for the Voluntary and Community Sector. And the House of Lords is looking at Sustaining the Charity Sector and the associated challenges of governance – and should report next year.
What can charities and trustees do?
Charities and trustees may want to focus on training, and on raising standards. You could make a start with our guidance and checklists; and at Trustees' week later this year, many sector bodies and organisations will be sharing their training with all trustees (7-13 Nov) to help boost understanding in the sector. You may also want to get involved in the conversations about governance in the Governance Code review, at the House of Lords, or with Cass Business School. Update your charity details here so we have all your Trustee email addresses.
It may be your charity does all of this well already –and in that case why not share your knowledge with others? How did you do it well? What did you need to make your team work? Could some of your trustees work with other charities, applying peer-to-peer learning? The point is that the sector is affected by individual charities failing to come up to the standards the public – and the regulator - expects. We need your creative input on how to get best practice applied across the sector.
What's absolutely certain is that this is not something that a single organisation or individual can do alone. We need to work on this together.