It's a year since we launched the new edition of the Essential Trustee (CC3) and kicked off a campaign to get every trustee to read it.
And I wanted to share some reflections on this campaign and our results so far. Why do we think this piece of guidance matters so much? And where do we go next?
Helping trustees to get it right: what we changed
Our task was to get across the message that being a trustee is a serious responsibility, but it doesn't have to be daunting if you are armed with the right knowledge and understand your duties. We made the language we use clearer, and we updated our explanation of trustee responsibilities and what the regulator expects to make this guidance easier to understand and apply.
We publish over 40 pieces of guidance on our website to help trustees understand their responsibilities, be more effective and ensure their charities deliver their aims. It's preventative – if you know what you should do there's less chance that we'll ever need to intervene with your charity and more chance that you'll be operating effectively. Some of the guidance we write is quite broad and should be read widely, other pieces are much more specialist and will only be needed by a limited number of trustees. However, if you only read one piece of our guidance, we want you to make it The Essential Trustee.
Every trustee should read The Essential Trustee
We want every charity trustee to know the six key duties set out in the Essential Trustee and understand how to fulfil them.
Our work shows that when things go wrong in charities, it's often because trustees didn't understand their duties, and as a consequence failed to do simple things such as: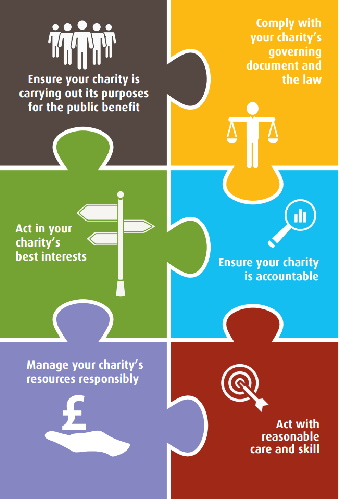 • follow the rules in their charity's governing document
• understand the finances
• check that controls and procedures work
• ask difficult questions and challenge assumptions
• follow proper decision-making principles
These are all examples of how trustees should be putting their duties into practice.
So how has our campaign promoting the Essential Trustee gone so far?
In our first year, there were 158,300 clicks on the Essential Trustee main page; 114,173 people viewed it. That's roughly twice as many people as the year before.
We promoted Essential Trustee through digital media, conferences and seminars, blogs and articles, and directly through our casework and contacts with trustees. Twitter proved a great way of increasing our reach. For example, the jigsaw infographic (left) has proved extremely popular, with over 7,000 hits since it was published in May and lots of charities and umbrella bodies using it at events and in presentations. And we have launched a new video too.
But there is clearly still a long way to go. Registered charities in England and Wales have over 950,000 trustees. We would like to see all of them using the Essential Trustee. We can't achieve this alone and are working with a number of charities and professional advisors to spread the word.
What's our next step?
We will continue to promote CC3 as part of our work on raising standards of trusteeship and governance. This work also includes contributing to wider initiatives in the sector such as taking part in Trustees' Week and supporting the revision of the Governance Code. We also want to build our capacity to contact more trustees directly, by increasing the number of trustees who sign up for our email (by sharing your email via logging in here; or online without logging in here) and twitter alerts. When we launched this campaign year ago the intention was to encourage as wide a readership as possible. Events of the past year have made this even more important.
Rebuilding trust and confidence
Trustees who understand their duties and put them into practice are at the heart of what drives trust and confidence. As Sarah Atkinson's blog explains, public expectations are actually quite simple. Charities should makes a positive difference to their cause. A reasonable proportion of donations should reach that cause. Charities should be well managed. Fundraising should reflect their values. And trustees should make independent decisions that further their cause.
So if you haven't done so already, read up on your duties. And if you have, encourage your co-trustees to do so as well. Why not share our infographic, or play our video at your next meeting?