There's no way to sugar-coat this: the public trust in charities has fallen. Today we've published the latest research in our series tracking public trust and confidence in charities since 2005. It shows public trust and confidence in charities has fallen from 6.7 in 2014 to 5.7 this year (where 10 is complete confidence and 0 is none).
Given the very difficult year we've had, this fall – the lowest recorded trust score since 2005 - was perhaps to be expected, perhaps you may even feel it could have been worse. Some people will tell you that it's a blip, driven by media; others may say that measures of trust don't tell you very much in comparison with hard data about donations or volunteering. For me, while it's not a surprise to see public trust has fallen so far, it is a concern, and one that needs a strong and focused response from charities and all those who have an interest in upholding trust in charities. In a time of economic and political turbulence, charities undoubtedly have an important role to play in building community cohesion and serving, and speaking for, people in need. The legitimacy of this role rests in part on the public's confidence.
Looking beneath the disappointing top line figures, this report tells you a lot about the drivers of public trust. If you know what matters to the public, and you act on it decisively, you can regain trust – we've seen that in other sectors.
So what are the reasons that trust in charities has fallen, and how can we rebuild it?
There are two key charts to take a look at. One gives the main reasons people cited for trusting charities less: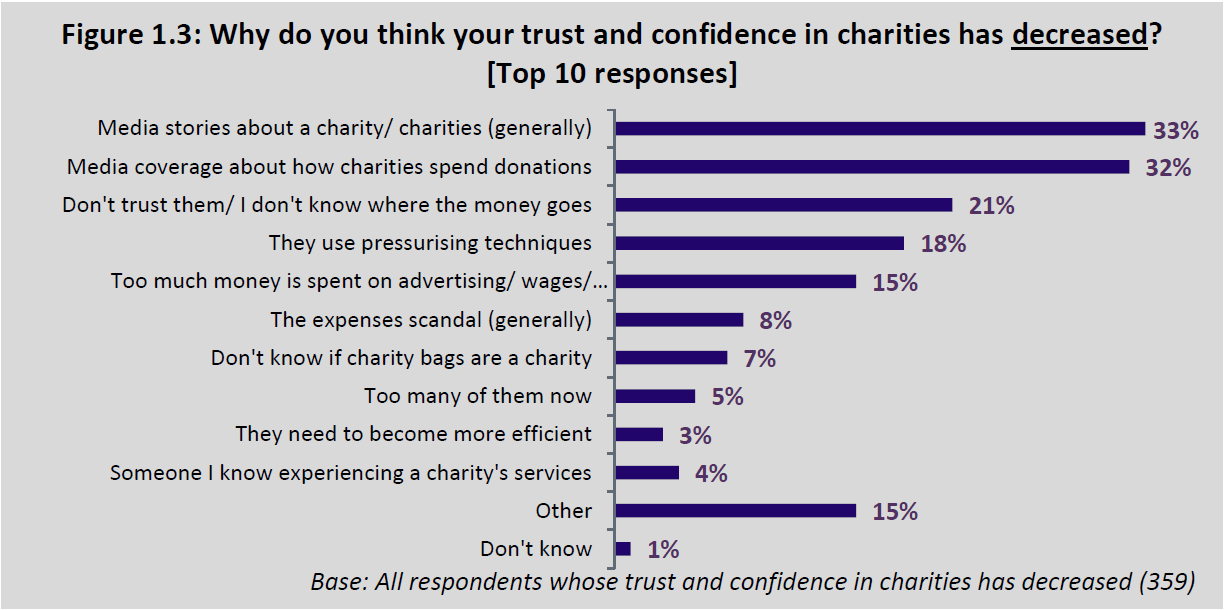 And the other shows five drivers of public trust. 63% of the public's trust is based on these five factors: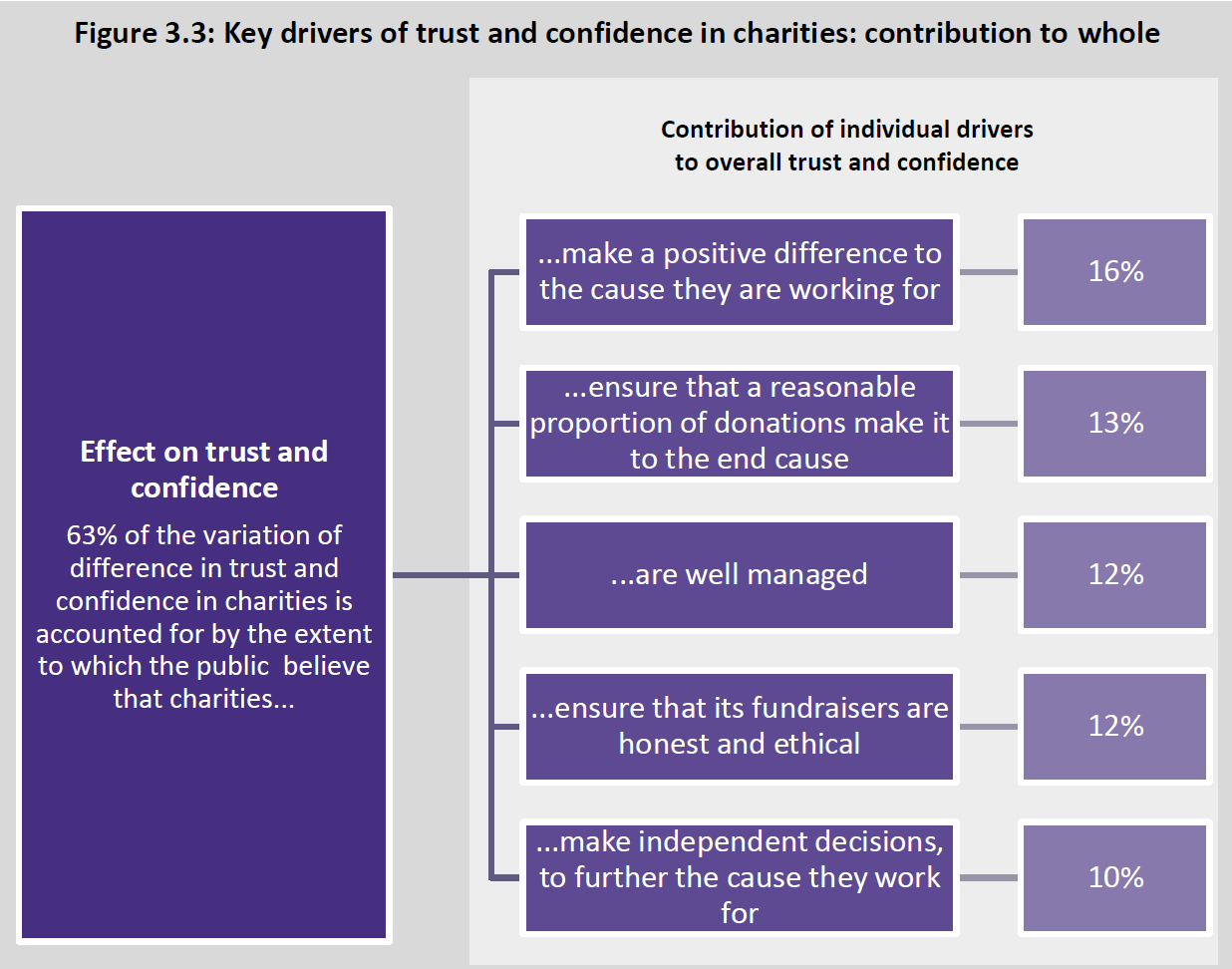 The public wants to see charities explain more and account better for how they manage and spend their money, they want to see honest and ethical fundraising, and they want to know that charities are making a positive difference to their causes. We can also see that when people know more about a charity their trust and confidence in charities generally increases. So we have a clear road map for regaining trust: make connections with the public, meet high standards for raising and managing money, explain all this clearly, and show how you are making a difference to the cause.
Many charities and charity leaders are already responding positively to the challenge to respond to public concerns about accountability, transparency and fundraising. But there is certainly more work to do. Charities need to get the message out to the public that things are changing, and show that they care about winning back public trust.
As for the Charity Commission, we know that the actions of a few can affect the way all charities are viewed. Our role in tackling abuse and bad practice supports public confidence. But we can and will need to do more to respond to what this report tells us about the drivers of trust – including that awareness and confidence in us has also dropped. Certainly we can do more to improve and promote the data we hold on charities, to help people understand more about the work of individual charities and the sector as a whole. We can also do more to help the public understand our work and the modern charity context in which we operate.
Is there any good news?
The research shows that the public values charities, with most (93%) feeling that charities play an important role in society and nearly two-thirds (61%) agreeing that charities are trustworthy and act in the public interest. If you are a small or UK-only charity, you may not be surprised to hear our research found people are more likely to trust small charities (57%) than large (34%) and they are more likely to trust charities that operate in the UK only (61%) than operate internationally (31%).
Might the research be wrong?
It's based on interviews with 1,085 people, and Populus repeated a shorter survey a month later with 914 interviewees to see whether it had been affected by a media story current at the time we were conducting the research and had sprung back – it had not. Our findings are in line with many other polls and surveys of public trust conducted in recent months, while our colleagues at the Scottish charity regulator OSCR published research yesterday on the picture in Scotland, also showing a decline in trust albeit a smaller one.
There's much more to consider in the research, and a wealth of supporting data. You can read the full research here and we'll explore some of the key issues in future blogs. As ever, comments welcome below the line.
Public Trust 2: How do you choose which charity to support?
Public Trust 3: How do charities tell the public what they want to know?
Public Trust 4: Our action plan on governance