In the spring we launched a survey for charities working internationally to find out if our guidance meets your needs.
Charities working internationally may face particular risks due to their operating environment that could be caused by political, social or economic factors amongst many others.
It is often in these areas that humanitarian need is greatest and we know that trustees want to make sure their charities are meeting that need but are also well run, protected from abuse, transparent and accountable.

What your responses told us
The views we received reflected the diverse nature of the sector itself. From small to large and recently formed to the very well established charities.
77% of respondents that provided data on their charity's structure were trustees and the majority worked in Asia and Eastern and Southern Africa, through partners.
The survey was designed in 3 parts, to understand:
awareness of our key guidance (particularly the Compliance Toolkit) amongst charities working internationally
the extent to which you find the guidance useful
how you think its content or presentation could be improved
Key findings highlighted that 63% of respondents had read all or part of the Compliance Toolkit. Of those who had not read it, 76%, stated they were not aware it existed but thought it would have helped them if they had been. Overall, the majority of those who provided feedback on the Toolkit said the chapters were useful, clear and relevant.
The main risks for charities working internationally were identified as compliance and operational risks, particularly:
reputational damage
corruption in foreign countries
conflict and political instability
terrorism
difficulty in communication or miscommunication with partners on the ground
poor behaviour/management of partner organisations working remotely
safeguarding
Most of these risks are already covered in the Compliance Toolkit, which shows our guidance is relevant. But, we will use your feedback to make sure it's clear and accessible by reviewing and updating it.
What we are doing now
There is a clear demand for guidance in formats which are brief, clear and efficient in their style such as short briefing documents, 'key questions to ask', 'top 10 tips' regulatory alerts and model templates.
You might be interested to know some resources like this already exist, for example our regulatory alert on the risks of using of cash couriers or 15 questions to ask at a trustee board meeting.
As this style of guidance appealed to at least 50% of respondents, this is how we plan to develop new resources. So watch this space!
Respondents recognised that our guidance cannot cover every risk a charity working internationally might experience. We fully support this. Managing risk includes developing policies, but it's also about being proactive, using your skills and experience to act in the best interest of your charity.
It is important that you take the time to regularly review your policies to make sure they are adapting to changing environments, reflecting what you are learning from experience and developing them based on best practice.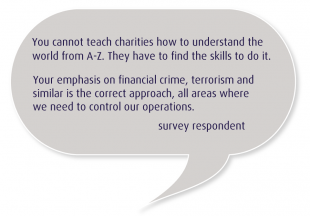 Keeping a regular check on our guidance will also help you manage your charity and its policies effectively. The simplest way to do this is to sign up for GOV.UK email alerts. You'll be asked for an email address, and can choose how often you'd like to be alerted when we make any changes to website content.
We would like to say a big thank you to everyone who took the time to respond, we really appreciate your feedback and have seen some great and innovative ideas!
About us
The International Charities Engagement (ICET) Team organise outreach activities to increase charity trustees' knowledge, skills and confidence in managing the risks associated with working internationally.
We will continue to work hard to ensure our guidance enables trustees and staff where they need support, and reflects the risks and challenges you face when working on the ground.
If you would like to speak to us about our work please email ICET@charitycommission.gov.uk