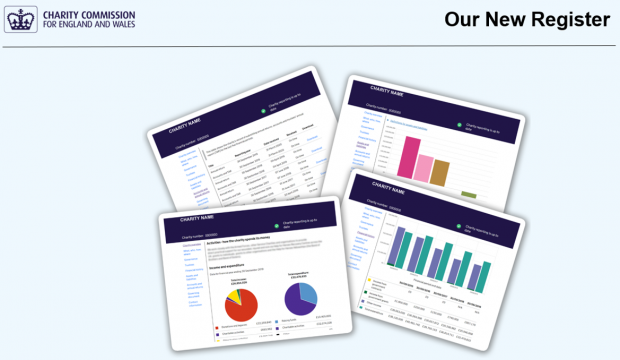 Today (3 September 2020), the Commission has launched a new version of the online register of charities. This is an important milestone for us, and for charities: the register is a precious national asset, and the Commission has a responsibility to maintain and curate it in the public interest.
Recent months have shown us how strong the volunteering spirit of the British public is, and how deep generous support for charities runs in our society.
The register has an important role to play in informing and inspiring that generosity. And my principal ambition for the new register is that it is used, and used increasingly widely, in helping people make informed choices about the charities they want to support.
Decisions around charity are deeply personal. They are influenced by who we are, and where we come from, by the experiences we've had and those we've witnessed among our friends and families.
As people make those choices it is crucial that they know where to go to check whether an organisation that approaches them for support is a registered charity, with all the added protections that brings.
And beyond that, we know that almost all of us, regardless of our personal sympathies and areas of interest, share basic expectations of charities: we want charities to be open and transparent about the way they work, and how they spend their money.
That's why our improved online register makes more information about individual charities available at the click of a button.
Clearer display on the register
Each charity's register entry will now display more clearly whether the charity has been subject to regulatory action or is of ongoing concern. And following changes to the annual return, after an in-depth consultation, charities' entries will now show how many staff members receive pay packages of £60,000 and above.
It also notes where trustees are remunerated for their work, and lists the policies a charity has in place, from safeguarding to conflicts of interest and investments.
The changes we have made are not just about the content of the register, but also about its look and feel. I want to ensure that people have a good experience when they are prompted to look up the details of an individual charity, or search for charities in their area. I want them to be able to find the information they came for easily and swiftly.
That's why we've made the display more intuitive, and have placed the information people most often search for within 'easy' reach, either embedded in a charity's landing page, or via a one-click menu of further options. We've also improved the search functions, so that they allow for people to isolate more precisely the specific information they are seeking.
And the new register display is also designed with the needs of charities in mind. Improved functionality makes it easier for trustees to access and update their own charity's information with the Commission, in line with our commitment to improving the service we provide to charities. Those considering setting up a new charity, can also use the register to ensure that they are not duplicating the efforts of others.
The new data download and search functionality also enable researchers, reporters, commentators and elected representatives to scrutinise and analyse the register to find information that helps them in their work: whether that's to spot trends the sector as whole, gather information about charities in a certain geographical area, or isolate charities by the work they do.
I would also like to see our data being used by others to help focus or target the valuable work of the charity sector where there is greatest need in society – including in terms of place.
Let us know what you think
The new register is not the end of a journey; while the new features are informed by user testing, survey feedback and consultation, there is always room for further improvement. I encourage the public, charities, and those with an interest in the sector, to use our new register, experiment with the new functionality, and let us know what is working, and what could be improved.
The register has a feedback form so you can tell us what you think.
Feedback will help us ensure that we continue to improve and finesse this important window onto charities, and the role they play in our society. We already have plans for further improvements, including to the APIs (Application Programme Interfaces) that allow web and app developers to take our transparency data and present it in new and useful ways.
As we look ahead during these uncertain times, the vital, two-way relationship between charities and the public will come into sharper focus. Charities will rely on continued public generosity and support to carry out their work, just as society generally, and many of us individually, may rely on the on the good work of charities.
To function, that relationship must be built on trust, accountability, and transparency.  Our improved online register is designed to strengthen all three.